Are you someone who thoroughly enjoys cannabis and all of the different accessories that come with it, and do you want to know what else you could be adding to your collection? Are you curious about what gadgets are on the market and which are the best ones?
Also known as marijuana, cannabis is a psychoactive drug from the cannabis plant. Although it has had its ups and downs with the law, many places around the world legalized it for medicinal and recreational purposes, and many places working are toward making it a legal product.
With that said, there's been an increase in the popularity of cannabis and, therefore, an increase in the number of cannabis gadgets and accessories created. Here are five gadgets for the cannabis connoisseur.
Consumption Devices
These days there are so many new and different cannabis products around, including different accessories and various consumption methods. However, as a cannabis connoisseur, you can never go wrong with going back to the basics.
Some of these consumption devices include bongs, vapes, and dab rigs. These products still take the number one spot on the list of the most used and popular gadgets on the cannabis market and at headshops like Smoke Cartel over here, despite new products coming out just about every day.
Using cannabis accessories such as these comes with many benefits, such as the fact that they are established products, which means they have had time to be refined and transformed into high-tech gadgets over time. It also means that they are simple and easy to use, and most of them are portable.
Coffee Mugs with a Built-In Pipe
Every cannabis lover loves a good wake and bake session, and what's better way to do it than with a coffee mug with a built-in pipe? It is a common phrase that breakfast is the most important meal of the day, and with this mug, smoking your weed out of a coffee cup could be the most important part of your breakfast.
This may seem like an arbitrary invention. However, for those who are in a rush every morning, this is an incredible time-saver and will get you out the door much faster. These hybrid coffee mug pipes can come in a various colors and even have fun phrases on them. 
Smart Grinders & Rolling Machines
Grinding your weed is a basic yet necessary task if you are a cannabis connoisseur, and rolling your weed is also essential if you enjoy smoking joints. While it is a basic process, it can quickly become a tedious task and something that is not really enjoyable.
This is where the smart all-in-one grinder and rolling machine comes in. This is an electric grinder that will grind your weed and then roll your joint for you. It can sense the consistency of your weed and grind it to your preferred consistency. A great aspect of this tool is that it is travel-friendly and small enough to fit into your bag. This is basically the future of smoking joints.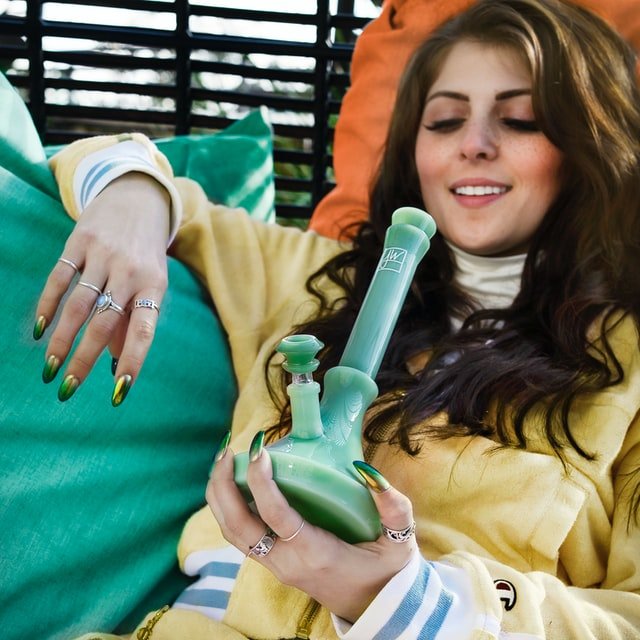 High-Tech Presses
If you are interested in making cannabis extracts, there are now devices readily available for you to use. Using a high-tech press is an easy and efficient way for you to make cannabis extracts.
With these, all you need to do is set the temperature and timer on the digital control panel and add in your herbs, and the device will do the rest for you. These high-tech presses are heat extraction presses that will allow you to get the most out of your cannabis and the best cannabis extracts.
Terpene-Infused Wraps & Filter Tips
Terpenes are the naturally occurring chemical compounds that can be found within plants. These terpenes are essentially responsible for the flavors and aromas associated with that type of plant. Cannabis has different terpenes that create different smells and tastes depending on the strains.
Terpenes play a major role when it comes to cannabis consumption, and these days, you can even buy rolling papers or wraps that have been infused with terpenes to enhance the flavor of your joints or blunts.